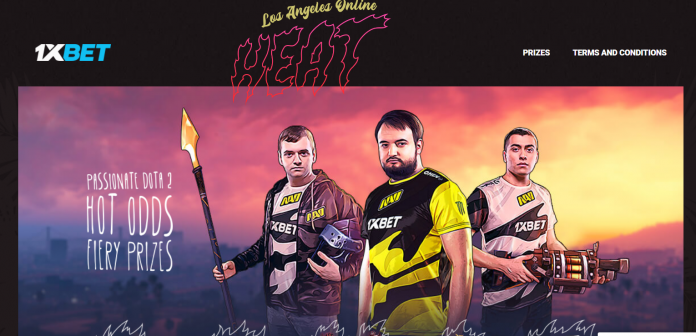 One need to log in to the website of the Promotion. If you do not have the login details, you should register on the website first of all. After logging in on the Promotion site, participants can place bets on any esports events and simultaneously take part in the Promotion. The stake must be at least 254 LKR with odds of 1.4 or more. The offer consists of five stages, each with a prize draw. So, to complete the first stage, participants need to place a bet on an esports event as indicated in Paragraph 1.2 If a bet wins, it is automatically entered in to the prize draw for the first stage. If the next bet also wins, it is entered in to the second stage prize draw. The participant thereby takes part in the prize draw at every stage.
If a bet loses, the participant is not included in the next prize draw. However, the next time he/she gets a winning bet, the winning streak is resumed: it is not reset after placing a losing bet. By completing all five stages, participants take part in all five draws. The winners will be selected using the random.org service and announced on the official Twitch channel 1xBet Esports on April 30.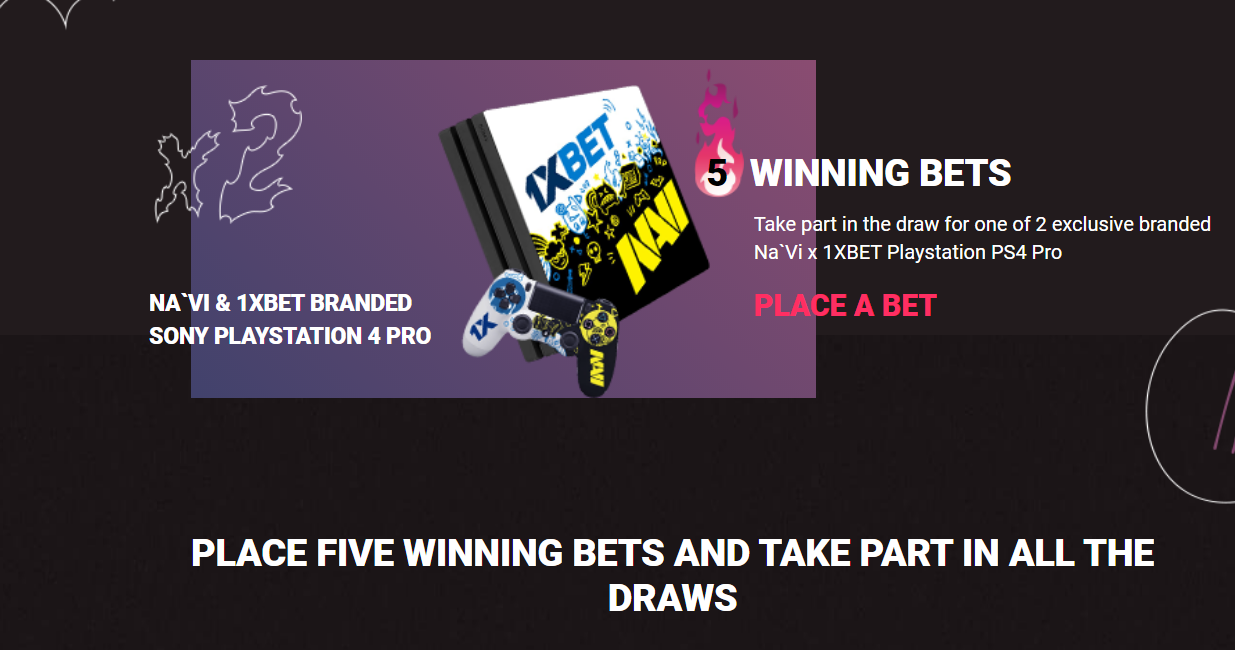 HOW TO TAKE PART IN THE PROMOTION:

3.1 Log in to the promotional website. If you don't have an account, you will need to register.
3.2 Agree to the Terms and Conditions.
3.3 Participants can take part in the draw for all prizes by placing bets of at least 100 RUB on any esports events with odds of at least 1.4 on the 1xBet website, provided that the outcomes of these events are determined during the promotional period. This Promotion only applies to accumulator bets if they include esports events only.
3.4 There are no limits on the number of prizes a participant can win in each stage.

MOVING BETWEEN STAGES OF THE PROMOTION:

To proceed to the next stage of the Promotion, Participants must place a certain number of winning bets, namely:

– One winning bet – draw for one of 50 subscriptions to Dota Plus.
– Two winning bets – draw for one of 20 Na`Vi 10-year anniversary jerseys
– Three winning bets – draw for one of 10 Dota 2 Arcana items of your choice
– Four winning bets – draw for one of 5 in-game Dota 2 items for Invoker: Inscribed Dark Artistry Cape
– Five winning bets – main prize draw for one of two Na`Vi x 1XBET branded Sony Playstation 4 Pro

This promotion does not apply to bets placed using a promo code.

PRIZE FUND

5.1 The prize fund includes the following Prizes*: Dota 2 items and skins, 20 exclusive Na`Vi 10-year anniversary jerseys and 2 Sony PlayStation 4 Pro Na`Vi x 1xBET Edition.

х50 Monthly subscriptions for Dota Plus
x20 10-year anniversary Na`Vi jerseys
x10 Dota 2 Arcana items of your choice
x5 Inscribed Dark Artistry Capes – Invoker
x2 PS4 Pro Na`Vi x 1xBET Edition

PROCEDURE FOR DETERMINING WINNERS

8.1 Participants can take part in all five draws throughout the entire Promotion, provided that by the end of the promotion, they have collected 5 winning bets. If a participant places one winning bet, he/she will only be able to take part in the draw for a subscription to Dota 2 Plus.
8.2 In all categories, prize draw winners will be determined by the random.org service.
8.3 The process of determining the winners of this offer will be broadcast on the Twitch channel on April 30 at 9:00 pm Moscow time.